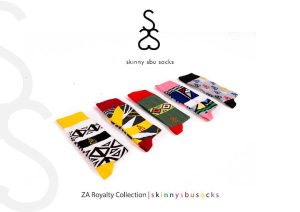 Looking at the Skinny Sbu Socks one can tell that there is a story behind each unique design. This is because the founder of the brand is a natural storyteller who made socks his canvass to share timeless African stories with the rest of the world. Ngwenya grow up in Tsakane, the East of Johannesburg and had bigger dreams than his background. He was inspired by the likes of Bonang Matheba, Sibusiso Leope (DJ Sbu), Trevor Noah and Tumisho Masha to establish a career in the media industry. Since he couldn't fund furthering his studies at AFDA after matriculating in 2010 he took a forced gap year where he worked part-time jobs to save up for varsity. He enrolled at the University of Johannesburg where he worked as a news anchor at UJ FM for two years.
Entering the world of fashion
Sbusiso also worked under the wings of Jan Malan, the head of Umzingezi Productions, which spearheaded renowned fashion shows in South Africa. This sparked his interest in the fashion industry. He says, "Although I am not a trained designer I believed I could contribute to fashion trends for men. I was at UJ FM when I heard guys from New York talking about socks and since I loved socks I considered a business of selling socks. So I went to a retail store, bought 15 pairs of socks for R5 a pair and sold them for R25 a pair. I invested R70 in the sock empire that I have been building since April 2013."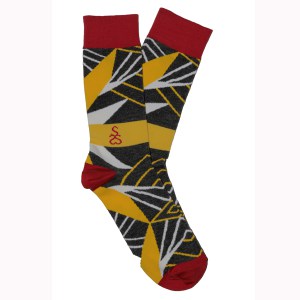 Creating a lasting legacy
"I met Potsiso Phasha, a visual artist specialist who advised me to brand my socks. Having taken reference from big international brands such as Nike, Louis Vuitton and Gucci who have identifiable and simple logos I also wanted to create something simple. Phasha is the mastermind who created my brand logo. The story behind my brand is simple. I was just a 21-year-old starting out in the world of business; I am a tall, super skinny guy who wanted a brand out of his name. This is where the triple S comes from. Also, I remember being teased a lot for my height so I wanted to prove that you can take something you are ridiculed for and turn it into a profitable trademark."
A few years ago Sbusiso met television personality Tumisho Mashaba who mentored him. The actor offered to be the brand ambassador of Sbusiso's brand, which made his socks an instant hit. In 2013 Sbusiso pitched his brand at The Hookup Dinner and although it didn't resonate with potential investors there at that time it sparked an interest in Selebogo Molefe, the founder of the monthly business pitch and networking event, who took him under his wings. During the event the international news network, CNN was present and broadcasted his story. This made the sock designer an instant African and global hit. Skinny Sbu Socks releases its collection every three months and uses social media as one of their platforms to sell the socks.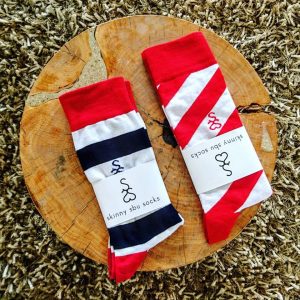 Final words
"My advice to the youth who want to be entrepreneurs is don't be paralysed by fear. The only way to overcome fear is to face it by pursuing your entrepreneurial dreams. If you want to start something big and impactful have passion, which is the biggest trait you will need more than the connections and the start-up capital. Slay in your lane and stay in your lane.
Skinny Sbu Socks is celebrating their four-year birthday on 26 May 2017 at Randlords- 41 De Korte Street, Braamfontein. Be part of the celebration for R250 a ticket. For more info contact: info@skinnysbu.co.za or Whatsapp 0848695628
Connect with Skinny Sbu Socks
Facebook: www.facebook.com/skinnysbusocks
Instagram: @skinnysbusocks
Twitter: @skinnysbusocks