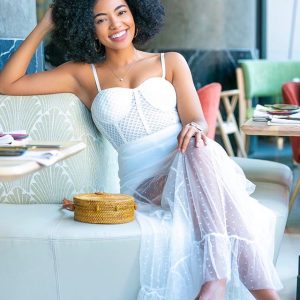 30-year-old actress and brand ambassador, Amanda Du Pont shares how she reached success in the entertainment industry and her tips to young people
Amanda has been in the entertainment industry for eleven years and has since worked her way to the brand she has become. She tells KDanielles Media how it all began:
Share with us what attracted you to entertainment, were you always passionate about it?
I've always been entertaining, from the age of five I was already in theatre productions in school. It was only in high school where my teachers advised I consider taking acting as a career in the future.
What does success mean to you?
Success means being surrounded by peace and love. Money and materialistic things come after and although I am grateful to God for the opportunities he has presented to me, I feel there's still a long way to go. Life is a journey and I am yet to learn more from it.
What else do you plan to tick off your career bucket list?
Definitely to win an Oscar. I want to work with A-List actors and be on A- List stories that move and touch people. Also, I believe I have a bigger purpose to spread love and hope to others and God has given me various platforms that I want to spread this message on. I feel people are going through a lot and I hope that what I do brings a bit of light in other people.
READ MORE: Female Celebrities Killing It In Business
Beyond your craft, how do you intend on spreading hope in the lives of other people?
I have over three million followers on my social media platforms. I am conscious of how I make them feel when they leave my pages. I want people to leave my pages or presence feeling enriched and if they do, I have succeeded in my purpose.
What has been your biggest highlight?
The realisation that I am no different than any other person, especially in the field that I am in and that comes with age.
What is your advice to young people who want to make a career out of social media?
Firstly, building a career out of social media is not a walk in the park. It's not about wearing fancy clothes and looking cool. It's actually a lot of work. It boils down to what your purpose is. I think if you build your career out of your authenticity and your purpose then it's relatively easy to build momentum. Also, it's not all about numbers but about quality and how people connect with you. If you stick to who you are it's easier to work with brands that speak to what you do.
What are your success tips to young people?
To be honest, I am also on a journey myself and make a lot of mistakes along the way. I don't have it all figured out but I honestly believe that it's important that you shouldn't make it the responsibility of others to make you successful. If you want something in life you have to work hard for it. At the end of the day, you reap what you sow.
Connect with Amanda Du Pont on:
Facebook: http://www.facebook.com/officialamandadupont/
Instagram: @amandadupont
Twitter: @AmandaDupont
Image source: Instagram