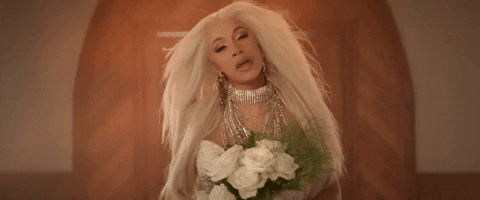 Source: Giphy
Step into the weekend with Cardi B's new music video for 'Be Careful', which was released a few days ago. Warning: it's as intense as the message of the song. 
Cardi B has been blazing the music charts since the release of her debut single, Bodak Yellow. Her new album, Invasion of Privacy, has already been given nods of approval from fans the world over. The Bronx queen's new music video is packed with intense lyrics that many can relate to when it comes to the matters of the heart. Cardi B warns that she's one that doesn't settle, no matter how much she falls in love. The video that was released only four days ago (21 May 2018) has already had more than 10 million views!
READ MORE: Weekend Review: What's On My Playlist This Week-Cardi B
I loved everything about the video, how open she is about her vulnerability when it comes to love. From the fairytale wedding that every girl dreams of to the day love dies and gets buried when she gets fed up.
Check out the music video below and let me know what you think of it.