From baking tips to making delicious chicken recipes, The Lazy Makoti gives you tips on how to turn your kitchen into a food haven
Since baking is science. Mogau Seshoene shares the common mishaps that often happen when you bake and the possible reasons why: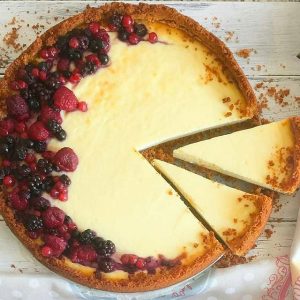 CAKE DID NOT RISE
– Pan too large
– Ingredients too cold.
CAKE RISES TO A POINT 
– Over mixed
-Batter too stiff
– Oven temperature too high
 CAKE SINKS IN THE MIDDLE
– Oven temperature too high
– Oven door opened or cake knocked during baking
– cake not baked long enough
– too much raising agent or sugar
– overmixing
-pan possibly too small
MIXTURE FLOWS OVER TOP OF PAN
-Pan used too small
– too much raising agent
TOP OF CAKE IS SPECKLED
-Air bubbles break on the surface as a result of too much air having been incorporated into the mixture.
– Sugar not dissolved or too coarse – use castor sugar
CAKE BREAKS IN HALF
– Cake on too high an oven shelf
– Mixture too stiff
DRIED FRUIT SINKS TO BOTTOM OF CAKE
– The fruit was wet and not rolled in flour
– fruit pieces too large
– too much raising agent
– cake mixture too soft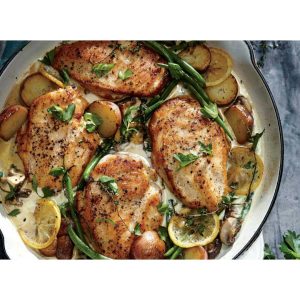 Creamy herb chicken
For The Chicken:
4 chicken breasts (sliced lengthwise to make them thinner)
1 teaspoon fresh chopped parsley
1/2 teaspoon each of dried thyme and dried rosemary
salt and pepper, to season
For The Sauce:
4 cloves garlic, minced (or 1 tablespoon minced garlic)
1 teaspoon fresh chopped parsley
1/2 teaspoon each of dried thyme and dried rosemary
1 cup milk ( or 1/2 milk + 1/2 cup cream)
Salt and freshly ground black pepper, to taste
1 teaspoon cornstarch mixed with 1 tablespoon water, until smooth
1cup Blanched veg ( spinach/green beans)
1 cup baby potatoes, cooked
1 cup mushroom, fried
Instructions
Coat chicken breasts herbs. Season generously with salt and pepper.
Heat 1 tablespoon of oil a large pan over medium-high heat and cook chicken breasts until no longer pink inside (about 5 minutes each side, depending on thickness). Transfer to a plate; set aside.
In the same pan, heat another 2 teaspoons of olive oil and sauté garlic, with parsley, thyme, and rosemary, for about 1 minute, or until fragrant.
Stir in milk (or cream); season with salt and pepper, to taste.
Bring to a boil; add the cornstarch mixture to the centre of the pan, quickly stirring, until sauce has thickened slightly. Reduce heat and simmer gently for a further minute to allow the sauce to thicken more.
Return chicken to the skillet. Sprinkle with extra herbs if desired. Add cooked veg and Serve.
Connect with The Lazy Makoti on:
Facebook: https://www.facebook.com/thelazymakoti/
Instagram: @thelazymakoti
Twitter: @thelazymakoti
Ingredients and images supplied by The Lazy Makoti