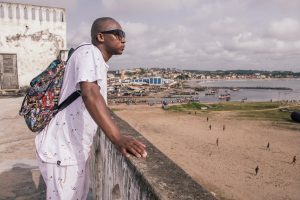 South African rapper and brand ambassador Khuli Chana shares about his passion for music, the One Source Live event taking place tomorrow and his success tips
 How did you discover your passion for music?
As a kid, I had to keep myself entertained and got into gymnastics for six years, and what that did was that it heightened my imagination because there's so much one can do with their body through this sport. I then got introduced to music through music shows. I would impersonate any great artist I saw at that time, especially Michael Jackson who was my icon.
What were some of the challenge you experienced breaking into the entertainment industry?
Being in a professional recording studio was a dream for me, and those are the things that keep me going because at one point that was all I really wanted. Now, a buddying musician might have access to that and all they want is to have their music heard. And what I have noticed now is that many musicians define success on analytics and the numbers and that often leads to depression, especially if one doesn't see the results they want.
How do you define success?
Continuing to being my own fan every time. At one point I also didn't have number one records but there are significant milestones I achieved, like my brand partnership with Absolut, where we are able to create events like the One Source Live festival taking place tomorrow. To me, success is creating a positive impact in the lives of others through my platform.
Tell us how the Maftown Heights came about?
The idea came about wanting to unite artists from Mahikeng and it was inspired by a party I went to a couple of years ago, where a diaspora of artists came together and celebrated each other. I wanted to do the same with Motswako artists and I also wanted to build a bridge where artists from different places in South Africa could come together and collaborate. Eight years later we have grown from strength to strength and we brought the event to Mahikeng
What can we expect from you for the rest of 2018?
People can expect more music. I miss the buzz so I will be presenting the music I have been making for some time and will be working with the artists I signed to my label.
What are your success tips for young people?
Every time a door shut in my face I would create my own opportunities. You can't rely on handouts or a Khuli Chana shout out. Be the best you can be so that others notice you and study the game, all the time.
Be part of the Absolut Revolution
Date:           Saturday 24 March
Time:           From 1 pm until late
Venue:        1 Eloff Precinct, downtown Johannesburg
Tickets:       R290 (General Access) available at www.onesourcelive.com
Follow Khuli Chana on:
Facebook: https://www.facebook.com/KhuliChana/
Instagram: @khulichana01
Twitter: @KhuliChana