Thokozani Sibeko, 38, shares his passion for his American- inspired pop up meat restaurant, Black Sam Smoque
What sparked your interest in the business field, have you always been entrepreneurial?
I got inspired to be entrepreneurial by the people around me, namely my family and friends. An enterprising attitude also assisted me in seeing and being part of business opportunities.
What inspired the name of your company?
When the co-founder of the business (Bonga Sebesho) and I brainstormed the potential names, we aligned the brand with the name as much as possible.  The name, Black is for the colour of the smokers and Sam stands for Serious About Meat, the que in Samoque is derived from the Barbecue.
Why did you decide to run a restaurant and when was it launched?
The love of food is the biggest reason the business was started. We started off with researching and developing the product, this was back in 2012. We launched in 2013.
Describe some of the challenges you faced when starting out your company?
There were many challenges that were faced at the beginning, from recruiting the right type of staff, getting the business systems in place and identifying the right locations to position the brand. We operate the restaurant at markets around Johannesburg. Frequent market are BrownSense and the Weekend market JHB
What have been some of your highlights so far?
Those would have to be doing big corporate gigs and being involved with the 1fox market for 18 months, this created the opportunity to attract customers and some media.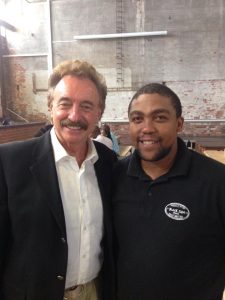 What sets your eatery apart from other pop up restaurants?
Our barbeque is what really sets us apart, we have spent countless hours understanding how the slow and slow process works and matching that with the right cut of meat, spices and wood. This is what makes our product stand out. It's the reason our customers keep coming back.
What are your short term and long term goals for your business?
Short term: – To find a permanent home for our business
Long Term: – To build a strong and easily identifiable brand, one that will expand throughout the country.
What can we expect from Black Sam Smoque in 2017?
More variety in our product offering, such as a processed meats (cold meats) that you might find in delis. More than that we hope to be known as one of the best BBQ Company in the country.
If you could, what would you change about entrepreneurship in South Africa?
The focus of entrepreneurial education is good but it has to be increased tremendously. Starting your own business is not easy but is very rewarding. Entrepreneurial education in the form of incubators is a strategy I believe that will bear fruit. I would have more incubators in place not only in the big cities but everywhere.
How many employees do you have and what is your leadership style?
Currently we have three part time staff on weekends, mostly. My leadership style really depends on the needs of that day, I would say it's between democratic, paternalistic and sometimes laissez-faire
What is your personal favourite food on the menu and what can people expect from your restaurant?
I like all the food on our menu, the pork belly would have to be the one that stands out for me at the moment. People can expect great friendly service, a bit of education about what BBQ is and as always great tasting quality food.
What is your advice to other young people who want to start successful businesses?
Have a focused passion for your craft and be determined to succeed. Do your research and find or make opportunities for your business.
Connect with Black Sam Smoque on
https://www.facebook.com/BlackSamSmoque/
Instagram #black_sam_smoque
Twitter @blacksamsmoque