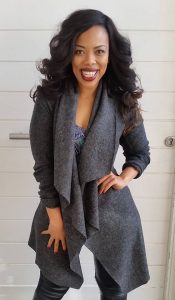 Mimi Thabethe left her '9-5' at South African Breweries to start her own branding company. She shares how her two-month entrepreneurial experience has been as well as her success tips
Have you always been entrepreneurial?
I didn't see myself as an entrepreneur when I was younger. On the other hand, my mom sold anything she could lay her hands on- from jewellery to pots. I have always been surrounded by people eager to make ends meet, whatever the cost. But having started my own business I am in a position to say that we now have the opportunities to build empires by doing what we love, and not the need to survive.
What attracted you to the brand management field and what have been your career highlights?
It was my love for working with people that got me where I am. I have always been curious about branding, the art of persuasion, negotiation, cut-through content that's topical and marketing in general, which all goes hand in hand when it comes to selling a product, service or idea. The highlight of my career is being part of the team that turned REDD'S premium ciders growth around after being in decline for 8 years. The 2 years I worked on this brand taught me, that anything is possible, with the right team, focus and dedication you are invincible.
What did your role as brand manager of SAB entail before starting your company Gina-Global, and why did you decide to start your company?
SAB taught me almost everything I know about Trade and Brand Marketing and for that, I'll forever be grateful to the people that contributed to making me who I am. As the Brand Manager of Brutal Fruit, I was brought onto the team to launch the Cranberry Rosé variant above the line. The work I had done on REDD'S in the 2 years prior to my appointment at Brutal Fruit justified why I was the perfect person for that role. My job entailed developing a digital brand strategy, public relation strategy for all campaigns, brand positioning above the line, paid media strategy, lead creative development for the launch, developing compelling and cut-through content to deliver the best digital campaign in SAB's history. I also had the opportunity to develop and deliver my first ever 360 degree campaigns (Above The Line and Below The Line), which was the Brutal Fruit February campaign themed BlessYourself.
Truth is, I didn't decide to start Gina Global, it just happened. When I left SAB at the end of February I decided I would go back to school to complete my BA Degree, as well as take some time out to travel. However, my plans quickly changed when I was approached by a considerable number of people asking me to assist them in growing or repositioning their brands.
And that is how Gina Global, the Strategic Communications and Digital Marketing consultancy was birthed.
What is the story behind your company's name?
Gina comes from my real name which is Legina,, it also represents my late mother's name, Regina. The global part is an indication of where I've set my limits. I intend to go global with my company and narrate a South African story to countries far and wide. It's time we stopped being apologetic about what we have to offer the world.
How would you define your target market?
I am really passionate about Urban Culture, I wrote an article last week defining who these underrated powerhouses are. Link: http://fort.co/urban-culture-underrated-powerhouse/
I'd like to help them build their brands, equip them with skills that will help them have more constructive conversations in the boardrooms and where I can, have those conversations on their behalf. The communication barrier between Urban Culture and corporate is too wide. A very similar conversation can be had about the distance between Urban Culture and the Government. This needs to be addressed and I'd really like to assist where I can.
What have been some of the highlights of starting your business two months ago?
I truly believe that there is a gap in the market which Gina Global can fill. The feedback I received from the Urban Culture article is a clear indicator that there's opportunity and the work is only getting started.
Who are your biggest clients?
The truth is, I keep all client information confidential, and the only time you'll know who I'm working with is when we cross paths in the boardroom. I believe it's important to let the work speak for itself. I can, however, say that I have been very fortunate to work with big brands within the Urban Culture space.
From your experience is SA a favourable environment for young entrepreneurs to start successful companies?
It's cut-through and only the fittest survive. But I believe that it's important to let your passion drive you and not a tender opportunity. I, unfortunately, do not know what it's like to be an entrepreneur outside of SA. I will write to you as soon as I take Gina Global global to tell you how different the landscape is.
What is your short-term and long-term vision of your company?
In the short-term, I would like to get a better understanding of what it means to be an entrepreneur. I'm still very new at this. As soon as I've done that, I'll better understand how far I can stretch myself.
What is your advice to young hustlers who want to start successful businesses?
You need to be willing to start at the bottom, experience is everything. When you are willing to do that your time to flourish will come and the rewards will be great. Find your passion and you'll find your true calling.
For Mimi's services email: info@gina-global.com
Follow her on twitter: @mimi_thabethe
Instagram: @Mimi_Thabethe